Nothing gets your automotive taste buds tingling like a pic of a fabulous car! Instagram is the perfect platform to both view cars that you aspire to drive, and boast about your own pride and joy. But which are the most talked about Instagram cars?
We've compiled a list of 11 of the most Instagrammed cars - by make and model - to discover which is the most loved. Sure, there's the odd sports car or iconic classic on the list, but many of the most popular Instagram cars may surprise you. See if you can spot your dream car as well as the car you drive now, then get your own pics on Insta with #MyDreamMotor so we can all enjoy your prized motor.
11. #LamborghiniAventador
762,917 posts*
The car of millionaires, you'll need £250k to make the Lamborghini Aventador your own Instagram car of choice. It includes a deployable rear spoiler and huge retracting cooling vents that keep the 6.5-litre V12 engine from overheating. Scissor doors provide stylish access to the two-seat interior and with looks as good as these, you'll never want to leave.
See the Lamborghini Aventador on Instagram.
10. #AudiR8
1,152,362 posts*
Coupé or Spyder, the Audi R8 is almost as breathtaking to see as it is to drive. With a £128k price tag, Instagram may be as close as most of us get to owning one. Distinctive side blades and a wide grille provide an aggressive look, while power of up to 620 bhp leaves onlookers far behind with nothing but a view of the rear spoiler (Performance trim) and dynamic indicators.
9. #Fiat500
1,207,198 posts*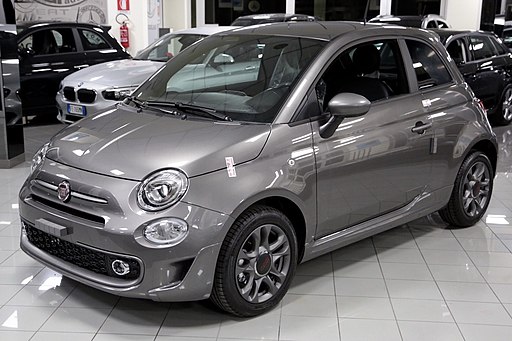 When it comes to the cute factor on Instagram, the Fiat 500 has definitely got it. Italian chic, all wrapped up in chunky, curvy styling with a hint of the original 1950s design. Personalisation is available through a choice of body finishes, including bi-colours and stripes, plus chrome detailing and convertible roof.
See the Fiat 500 on Instagram.
8. #NissanGTR
1,553,829 posts*
Image by: Tokumeigakarinoaoshima
Now, this is a supercar! The £80k-plus price tag and claimed track speeds of 186 mph on the Nissan GTR may have something to do with it being such a popular Instagram car. If that doesn't impress you, 20" Y-spoke forged alloy wheels; body coloured rear spoiler with integrated stop light; flush-mounted aluminium door handles and quad exhaust pipes will.
See the Nissan GTR on Instagram.
7. #VolkswagenGolf #VWGolf
1,641,684 posts*
Image by:Mark Lincoln, Miles Continental
Ahhh, the Volkswagen Golf. Probably not the first car that springs to mind when we're talking about jaw-dropping motors but it still has its own charm. If you don't own a VW Golf, you'll know someone who does. With so many different colour and wheel options, as well as trims ranging from entry level S to top-of-the-range R, there's something to catch everyone's eye.
See the Volkswagen Golf and VW Golf on Instagram.
6. #BMWM3
1,943,771 posts*
Image by: Matti Blume
Saloon cars don't get much more Instagrammable than the stunning BMW M3. As with all BMWs, the distinctive, kidney-shaped grille and cat-like headlights ensure an eye-catching design. In the M3's case, the gill-like side air inlets, rear spoiler, diffuser, 19" or 20" light alloys and angled twin exhaust pipes make it even more special.
5. #FordMustang
2,325,299 posts*
Image by: Vauxford
The Ford Mustang isn't just big on personality, it's big all over! Actually, it's two feet longer than an Audi TT and about the same width as an Audi A8. Its curved bonnet, sweeping roofline and three-bar tail lights provide unmatchable kerb appeal. Available in fastback and convertible options, the Ford Mustang goes best with a pair of sunglasses and a cool soundtrack.
See the Ford Mustang on Instagram.
4. #MINICooper
2,382,383 posts*
Image by: Pietro Tebaldi
The stand-out design features on the MINI Cooper are so numerous that we can't list them all here. The round headlights, hexagonal grille, upright windscreen, clamshell bonnet, Union Jack tail lights, beefed up wheel arches and floating roof are just a few trademark characteristics that make the MINI a joy to watch and even better to drive.
See the MINI Cooper on Instagram.
3. #Porsche911
2,394,893 posts*
Image by: Matti Blume
56 years and 8 generations of the Porsche 911 has made it one of the most identifiable sports cars - both on and off Instagram. Now longer, wider and taller than previous versions, the Porsche 911 992 is more desirable than ever in both convertible and coupé options, helped by an acceleration time from 0 to 60 mph in as little as 3.5 seconds.
See the Porsche 911 on Instagram.
2. #HondaCivic
2,522,247 posts*
Image by: Pierre-Michel Villa
The Honda Civic is a hatchback, but not as we know it! Long low lines and an aggressive-looking front end lets us know that it means business. Combine these great looks with the 316 bhp provided by the Honda Civic Type R and you can see why it's near the top of our insta list!
See the Honda Civic on Instagram.
1.#JeepWrangler
2,837,505 posts*
Image by: JamesHenry
Nearly 80 years old and still going strong, the Jeep brand is not only iconic but also reasonably priced, making it available to almost everyone with a taste for adventure. Of the range, the Jeep Wrangler is probably closest to the original utility vehicle, commissioned for use way back in World War II. Some of those recognisable features are still included, such as the 7-slot grille, round headlamps, removable doors and roof, and foldable windscreen.
The newest model launched in 2019, includes a front anti-roll bar, fog lights, daytime running lights, winching ability and 17" or 18" polished alloy wheels fitted with 32-inch BF Goodrich Mud-Terrain tyres.
No wonder it's currently the most talked about Instagram car!
See the Jeep Wrangler on Instagram.
You don't have to be on Instagram to get an eyeful of motoring loveliness. Pop down to Motor Range to find your ideal car and you could be posting your own mouthwatering Instagram car pics in no time. Don't forget to use #MyDreamMotor.
* Figures as at October 1st 2019